Louisiana Fishing Guides
Adventure South Guide Service specializes in guiding clientele on light-tackle saltwater fishing trips for redfish and speckled trout in coastal Southeast Louisiana.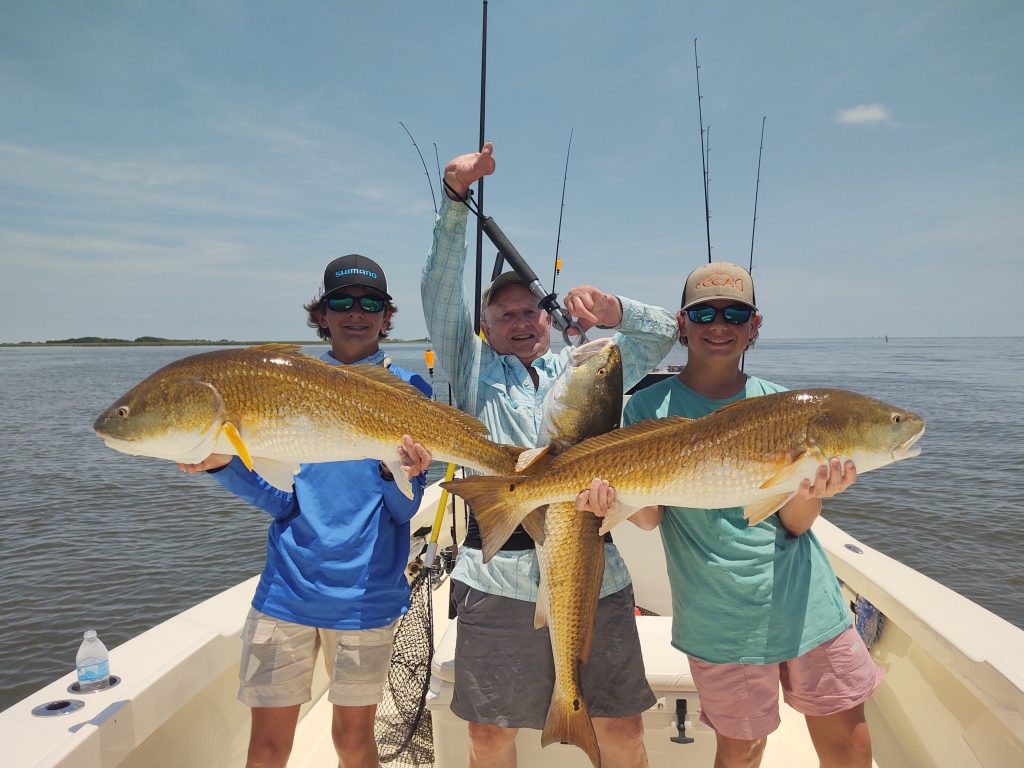 On a typical day you will leave the dock at "safe light" and will find yourself running through a maze of bayous, bays, and marshes on your way to one of the many Louisiana fishing locations in the area. Once arriving at the first "honey hole", you will troll or drift along while casting to grass covered areas or over one of the many oyster reefs in the marshes. These waters are so bountiful with rod bending redfish and tail walking speckled trout that it is not uncommon to catch 100+ fish each day. The Louisiana fishing trip action is unbelievable. Venice, Louisiana is the undisputed "Redfish Capital of the World". You will never go redfish fishing anywhere else and be able to catch more 20-30+ pound redfish, and that is a fact.
Rods and Reels
We do offer the use of spinning rods and high-quality reels at no extra charge; however, you are welcomed to bring your own rod and reel if you like. If you do decide to bring your own rod and reel, we recommend that you use a 6'6″-7'0″ medium to medium heavy action rod and a reel that is capable of holding 100-150 yards of line (we do recommend a braided line such as Power Pro). This particular combination of rod and reel will allow you to get the most fun out of each fish you catch. So whether you're throwing a jig to a cruising redfish or casting a topwater lure into a school of surface crashing speckled trout, it will be a sporting and rewarding experience.

Fishing Boats
At Adventure South Guide Service, we are proud to use Blackjack Boats, Mercury outboards and MotorGuide trolling motors. This combination of boat and motor is safe, fast, and perfectly suited for stalking redfish in shallow marsh lined bayous or drift fishing for speckled trout over reefs in one of the many coastal bays. "We like to go where the fish go and this combination of boat and motor can get us there in comfort!"
When fishing with us, there are just a few things that we recommend you bring:
Louisiana Offshore Fishing Charters
If you are interested in Louisiana offshore fishing charters, do not hesitate to let us know. There are many expert offshore Louisiana fishing guides in our area, and we have a good working relationship with several who have been in the business a long time. Just ask, and we can help you secure your Louisiana Deep Sea Fishing booking as well.